---
Cook's Nooks - Oh, Baby!
So you're having a baby - congratulations! But watch out - you're entering a whole new world with new knowledge to gain and new skills to master. There's a lot to learn about being pregnant and becoming a parent. If you're lucky, you've got a friend, family member or understanding doctor you can learn from. If you're like most of us, however, there's no one to show you the ropes.
This doesn't mean you're alone in your struggle. There are a lot of books out there about pregnancy, childbirth and babyhood. Some of these books contain a lot of useful information, including things even your doctor probably won't tell you. The problem is that a lot of books on the subject are woefully incomplete, out of date or just plain inaccurate. When you're faced with an entire bookshelf of baby books to choose from, how can you be sure you've picked the gem and not the junker?
When my wife and I were expecting our first child, we asked ourselves the same question. Because there weren't any good reviews out there, we had to find the good books and ditch the useless books through a painstaking, time-intensive trial-and-error process. If you're like most new parents or expecting parents, there are lots of other things you'd probably like to do with your precious time. That's why we've provided you with some reviews of baby books based on our own experience.
As you read the reviews below, which are organized into handy categories, pay attention to what the book's about. There are a lot of great books out there, but not all great books are great for everyone. Ask yourself, "is this the kind of book I need?" If you find you are interested in a particular book, click on the graphic of the book's cover and you'll be taken to
Barnes & Noble, where you can buy the book and have it sent right to your home. Happy reading!
---
We have reviews of books about:
Pregnancy
Baby Names
Babyhood
Breastfeeding
---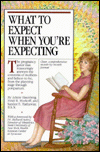 What to Expect When You're Expecting
by Arlene Eisenberg, Heidi E. Murkoff and Sandee E. Hathaway
Bottom Line:Affordable, comprehensive and useful. It's popular for good reason.

What to Expect When You're Expecting is perhaps the most popular pregnancy book, and for good reason: it's a well-written, useful book. While it's not as packed with information as the more expensive Mayo Clinic Complete Book of Pregnancy and Baby's First Year, it's certainly got the information most expectant mothers need. The book is handily organized on a month-to-month basis with information on choosing a caregiver, prenatal diagnosis, exercise, childbirth options, second pregnancies, twins, making love during pregnancy, having a cesarean, and practical tips on coping with those quirky pregnancy problems. There's also a section devoted to fathers-to-be, which I appreciated. The book also sports a warm feel without sacrificing detail. This book is a positive contributor to both you and your new baby's well-being.