Cook's Nooks: Sweatshops
This nook is devoted to books about sweat shops. More than a hundred nations have endorsed the UN's Declaration of Human Rights, which reaffirms workers' rights to safe and healthy working conditions, to collective bargaining through unions, and to "just and favorable remuneration [pay] ensuring for themselves and their families an existence worthy of human dignity." A sweat shop is a factory that violates these internationally guaranteed standards.
There's a lot to learn about sweatshops, how they work, and how they are related to our daily lives. As you read the reviews below, you may find yourself interested in a particular book. Click on the graphic of the book's cover and you'll be taken to
Barnes & Noble, where you can buy the book and have it sent to your home. Happy reading!
Child Labor and Sweatshops
Edited by Mary E. Williams

This is a hot-off-the-press collection of seventeen articles on sweatshops written by journalists, human-rights activists, labor experts, teachers and others concerned about the proliferation of sweatshops. The collection provides valuable in-depth information about sweatshops and the systems of politics and economics that they work within. Not a work of fluff, this is a highly substantial volume that should prove useful to anyone who would like to become expert in the subject of sweatshop labor.
No Sweat: Fashion, Free Trade and the Rights of Garment Workers
Andrew Ross

If Mary E. Williams'
Child Labor and Sweatshops is an expert work for the head, No Sweat is designed to hit you in the gut. With 100 photographs in its 256 pages, you'll see exactly what sweatshops are all about. Articles are written in an accessible yet informative manner that gives the reader the feeling of being in the sweatshop industry (as much as any book can). The many collaborators on this book (who include Jo-Ann Mort, Alan Howard, Julie Su, Charles Kernaghan, Bud Konheim, Mike Piore, John Cavanagh, MacKenzie Wark, Angela McRobbie, Robin Givhan and Paul Smith) focus on the relationship between the fashion and clothing supply industries of the U.S. and the sweatshop industries of the third world. The book avoids falling into the trap of ineffectual empathy by presenting a number of useful actions that readers take to join the growing movement against sweatshop labor abuses.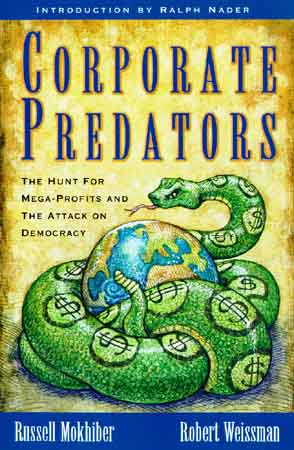 Corporate Predators: The Hunt for Mega-Profits and the Attack on Democracy
by Russell Mokhiber and Robert Weissman; Introduction by Ralph Nader

This book, just out in April 1999 from Common Courage Press, is a fresh collection of pieces by investigative journalists Russell Mokhiber and Robert Weissman. A major section of this book is devoted to understanding the relationship between corporations, politics and sweatshops. Some of the topics covered in that section include the Disney-sweatshop connection, sweatshop corporations' support of the corrupt Suharto regime in Indonesia, the use of local government troops to keep sweatshop workers quiet, and the fallout from a proposal to cover sweatshop labor on CBS. These articles alone are interesting; however, it's important to point out that the book is about more than sweatshops alone. Rather, most of the book focuses on the global context within which sweatshop abuses can take place: a new corporate order in which corporations govern the world, and the official governments are puppets operated from behind the scene by those same corporations. A good book to read if you're interested in sweatshops and would like to understand the broader forces perpetuating them.